It sounds strange that Angel Trumpet 3D printed jet engine is one of the side projects, but it is. GE Aviation has side projects. Side projects are cool and a cool example of it is 3D print working jet engine. A team of the engineers and machinists, engineers 3D-printed a backpack-size engine at GE Aviation's Additive Development Center near Cincinnati. They built this great engine over the course of a few years to test out what Additive Manufacturing can really do when pushed, and also to have a great side project to work on.
They wanted to see if they could build a little engine that runs almost entirely out of additive manufacturing parts," according to one of their engineers. This was a fun side project, he added. It's not quite as complex as a commercial aircraft engine, in every sense. But, the thing which was a bit too complicated is to build into this working model. Alternatively, they analyzed an engine for remote control model airplanes and customized it for 3D printing. Score another victory for the team that's already developed an AM fuel nozzle for inclusion in the CFM LEAP jet engine for commercial single-aisle aircraft, which is being tested right now. The FAA recently approved the first 3D-printed component (T25 sensor housing) for a version of the GE90 jet engine. GE is currently retrofitting the component onto 400 existing aircraft.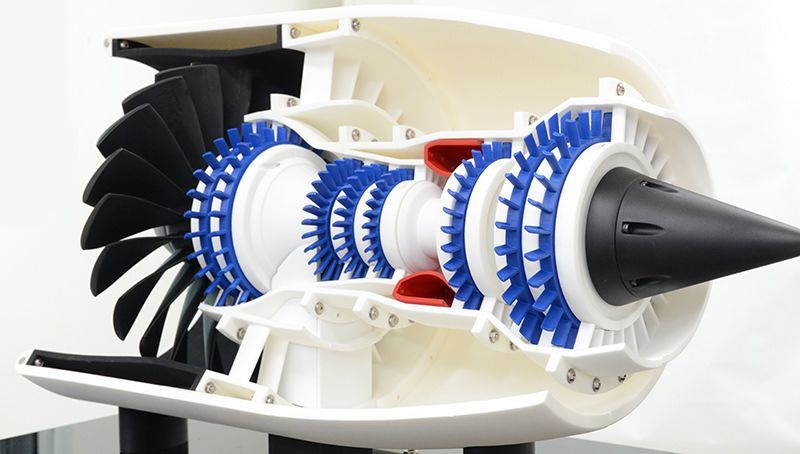 When talked to Matt Benvie, spokesman for GE Aviation, he says, "There are really a lot of benefits to building things through additive''. Moreover, he said, "You get speed because there is less need for tooling and you go right from a model or idea to making a part. You can also get geometries that just can't be made any other way." They then proceeded to blast it to 33,000 RPM.